Free Monthly Delaware Home Buying Seminar
Next Seminar Dates:
The Delaware First Time Home Buyer seminar will last about 2 hours and each participant will be able to receive a free copy of their tri-merge credit report. The home buyer seminar will cover all of the basics of buying a new home in Delaware. The home buyer seminar will cover Delaware FHA loans, Delaware VA loans, Delaware USDA Rural Housing Loans, First Time Home Buyer Loan Programs and the Delaware FHA 203k Rehab loans.
Watch What One Participant Has to Say About the Home Buyer Seminar
Each participant will receive a Free Credit Scoring Handbook, Free Home buying Handbook, and an opportunity to meet with a certified mortgage planner to be pre-approved for a Delaware mortgage loan to buy a home at the seminar.
You will also learn the following at the seminar:
Valuable Tips on How to Improve Your Credit Score
How to Establish Credit if You have None
How to Budget to Afford a New Home
How to Calculate How Much Your Qualify for
How to Get Pre-Approved for a Mortgage Loan
Learn what Mortgage Programs are available for Delaware First Time Home Buyers
Learn what programs are available to help with down payment assistance and closing costs
Learn what your Delaware Mortgage Lender should be doing for you
Learn what your Real Estate Attorney should be doing for you
Learn what your Delaware Real Estate Agent should be doing for you
Learn what your Home Inspector should be doing for you
How to find the right Realtor to help you find your new home
How to shop for your new home in Delaware
How to make the offer and negotiate the best price and terms
and much more!!!
Our Free Delaware Home Buyer Seminars are held at the following locations
Christiana Hilton Hotel

Delaware

Delaware Virtual Home Buyer Webinar

Delaware

Dover Holiday Inn

Delaware

Hilton Garden Inn

Delaware

Independence Mall Wilmington Delaware - KG Home Team Office

1601 Concord Pike

Suite 88

19803

Wilmington

,

DE

Delaware
You can register by calling Dawn Wilson at (302) 784-5616, sending an e-mail to dawn.wilson@foxroach.com, or clicking on the links below:
Your Presenter for the First Time Buyer Seminar is John R. Thomas, the author of the book,
Your Guide to Buying Your First Home in Delaware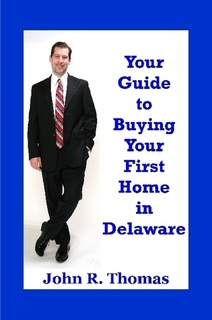 Opinions expressed on this website and in seminars and discussions belong to the individual and do not reflect the views held by Primary Residential Mortgage, Inc.